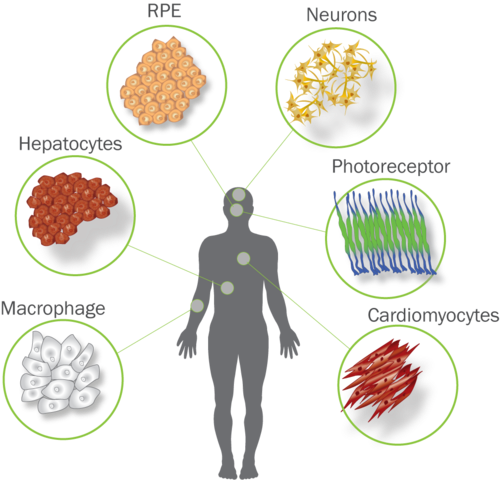 Somatic Cells
The body is made up hundreds of cell types that comprise the various organ systems. These somatic cells carry the same genome, yet they differ greatly in structure and function. During embryogenesis, cells that are pluripotent generate thee three germ layers from which all cell lineages are derived over the course of development. Death of cells can cause dysfunction of the tissues they reside in, leading to loss of function. For example, loss of photoreceptors in the retina leads to various forms of blindness.
Induced-Pluripotent Stem Cells
In 2006 it was discovered that pluripotency could be engineered into existing adult somatic cells, effectively reverting them to an embryonic-like state. These 'induced pluripotent stem cells' (iPSCs) were the subject of a Nobel Prize awarded jointly to John B. Gurdon and Shinya Yamanaka in 2012. With this technology, it is potentially possible to manufacture unlimited amounts of any cell type from any individual. Our retinal cell manufacturing platform is based on reprogramming of blood cells into iPSCs, then converting those iPSCs into photoreceptors and retinal pigment epithelium (RPE) lineages for transplantation.
iPSC-Based Therapy
iPSC lines can be derived from an individual, differentiated to form a specific cell type, and utilized as a therapeutic product (or as a model-in-a-dish for drug development). Cell therapy has been in practice for decades (i.e. bone marrow transplants), but currently available adult cell therapies are unable to produce the actual cells lost during the course of retinal disease. iPSC technology overcomes this limitation by enabling controlled manufacture of any cell type from any individual. We are applying this process toward scalable manufacture of human retinal cells.
HLA-Matching
Human leukocyte antigen (HLA) genes encode cell-surface proteins that display signals to allow immune cells to recognize the cell as self, and remove infected or foreign tissue. When transplanting organs, selecting a donor whose genotype closely matches that of the recipient reduces the likelihood that the organ will be rejected by the recipient's immune system. In order to reduce the need for immune suppression when transplanting our cell therapeutics, we are deriving our source iPSC lines from individuals with HLA genotypes that are compatible with large segments of the population.